Name: Sarah Harms
Location: New York, NY
Education: University of Pennsylvania, 2010
Name: Madelaine O'Connell
Location: New York, NY
Education: Boston College, 2012
Name: Janie Gaughan
Location: New York, NY
Education: University of Loyola, 2011
How do you all know each other?
Janie and Sarah originally met at work. Unfortunately, young women often feel a need to compete with each other in and out of the corporate world, and Sarah hates to admit it, but she felt this pull when she first met Janie. She was the new, fun, and gorgeous assistant, and everyone loved her! As Sarah got to know her, she realized that there was so much room for both of them to be successful. They bonded over greasy food and beers at work happy hours, and then would #balance it out with workouts. Before long, they were working out together about 4x a week and would hold each other accountable to wake up and show up for their workouts. One workout they took together religiously was Madelaine's class at the Bari Studio. By being Madelaine's 6am and 7am regulars, they got to know her and became fast friends, but also got to talking about how they felt there was something missing for driven, like-minded women in New York.
How did you come up with the idea for Sweats & Balances?
Sarah Janie and I served as a micro case study for why we started Sweats & Balances. Too often, women feel the need to compete and be closed off with other women. I saw it in myself, but we saw it every morning when we would see the same girls in the 7am class at Bari, but we would come in, setup, workout, shower, and go about our days. One night, Madelaine had the fun idea to do an evening workout on the West Side Highway followed by wine. The rose helped, but we noticed that if given the opportunity, we did want to meet new girls and make meaningful connections. Our endorphins were up and our guards were down, and the conversations flowed so naturally. We knew other girls would value the ability to work out AND make meaningful connections, and so the idea for Sweats & Balances was born!!
How did you come to know that fitness is a core component of striving to be your most healthy, balanced and successful self?
Sarah: I was a D1 Athlete. Fitness has always been, and will always be a big piece of my life. What I realized as I got older was that fitness doesn't always have to mean winning. It can mean helping you not just feel good and look good but also mean finding time for yourself and your sanity.
Madelaine: I grew up as a competitive dancer, beginning at the age of three and thus fitness has always been a huge part of my life. I began teaching fitness classes in college and then came to NYC to work in investment banking. During those first few years, I didn't prioritize my health and wellness and realized that I needed to bring fitness back into my life in order to be my most successful self at work and in my personal life. I began taking fitness classes at 6am, the only time I could fit it in, and from there became so passionate about helping others find the same balance I did so started teaching!
Why is this work meaningful to you? What gets you excited about planning S&B events?
We believe S&B fills a big void for women. Women have so much to learn from each other, so the fact the S&B events bring women together in a fun, productive, and un-intimidating way means so much to us. We think showcasing that balance isn't the same for everyone but you can have it all if you want it is a message we don't hear often enough. Having a community of women who support you in that goal is everything for the young working professional woman.
What has been your favorite event to date, and why?
Sarah: We've had so many fun ones!! One of my favorite recent events was the Community Event dedicated to fertility. Fertility is so important to seemingly all women, and yet we don't talk about it!! We really felt like this S&B event created a safe space for women to come not just with questions, but with deeply personal stories about their fertility, and that was really special.
Three tips for achieving work-life-flow that have worked for you?
Madelaine:
Become a morning person and prioritize sleep. I workout every morning because it's my time to myself before life takes over. If you are not a morning person yet, prioritize your sleep, book a class that you will be penalized for canceling, and/or find a workout buddy and hold each other accountable. Getting your workout done early in the day sets you up for success throughout the day – more clarity and energy to be successful in your professional and personal lives.
Sarah:
To-do lists. My mind is calm when I have a sense of my short, medium, and long term goals both professionally and personally. Tracking my week with a to-do list seems Type A, and it is, but it's a way for me to manage through the chaos.

Stop comparing yourself. My diet, my workout regimen, my body, and my life are unique to me, and it's so important to remember that. I see other girls that are skinnier, fitter, more successful, etc. and I used to beat myself up about it, but I do over-indulge at dinner with my husband, and I do have my athletic build, but I love these things about me and I try to remind myself of that so as to not create an unhealthy mindset surrounding what my life or body should look like.
Janie
Get a workout buddy! This is the single most important thing that got me into a consistent workout routine. When Sarah and I started working out together I became accountable to her and to being at the gym or class at a certain time. Not letting her down is what got me out of bed. Working out with someone several days a week can become a bit like therapy. You're spending so much time together in a more than usual vulnerable state that you share so much and it becomes as much a mental outlet as a physical one.

Find a mentor! Whether that is a more seasoned leader in your professional field or a friend that you trust and look up to, having a sounding board has been an immense help in our lives. Either way, choose someone who has qualities that you admire and has had the success that you aspire to have professionally or personally. Finding a mentor is not always easy, so my advice is don't be shy to ask someone for coffee or a drink or a workout. tell them why you admire them (everyone loves to be flattered) and remember it's a two-way street so think about what you can give to them in return.
What's one conventional wellness belief or mantra that needs to go away forever, and why?
It's not really a belief or a mantra, but we feel like we live in a world of Instagram vs. reality and we really hope that S&B can act as a "real" platform for women, grounded in "realness" and not taking ourselves so seriously.
What advice do you have for young women who want to start a passion project (an organization, project, etc. outside of their formal, full-time role)?
Your passion project idea could be the best idea in the world, but you still need a business plan. Map it out, put numbers behind it, and find allies or co-founders for different ideas and perspectives.
Having three co-founders makes running S&B possible. With each of us having full time demanding jobs on top of friends/family/significant others, it would be nearly impossible to do alone. We each have different strengths so we balance each other out.
If you are not ready to jump in right away or don't have a partner, go to some networking events in the field to meet like-minded people to get inspired.
Do you have mentors? Who do you look to for inspiration and support?
Yes! we each have a lot of mentors. In mentors, we look for a mindset, processes, or attitudes that we can emulate and apply to our own personal and professional lives.
Final words of wisdom to all the young women out there who are strategizing to reach their wellness goals?
Sarah: For me, wellness has been dynamic and fluid. My definition of wellness is always changing and I think that's ok! I think it's also important to remember that wellness does not equate to how you look, but how you feel.
Janie: Wellness doesn't need to mean working out, eating healthy and crushing it professionally at all times – rather it means listening to your mind and body. If you need to skip a workout to sleep in or miss a corporate happy hour to spend time with your significant other,  or bail on brunch with friends to read and be in your own headspace, that's ok!
Madelaine: Define what balance means to you and don't compare your definition to others. And take time for you and only you. 30-60 minutes a day to focus on yourself – whatever that means for you: workout, nap, reading a book, etc. – is invaluable to finding overall wellness in your professional and personal life.
If you are open to connecting with our readers, how can they reach you?
IG @madelaine_oconnell / madelaine@sweatsandbalances.com
IG @sarbearharms / sarah@Sweatsandbalances.com
IG @janiezgotagun / janie@sweatsandbalances.com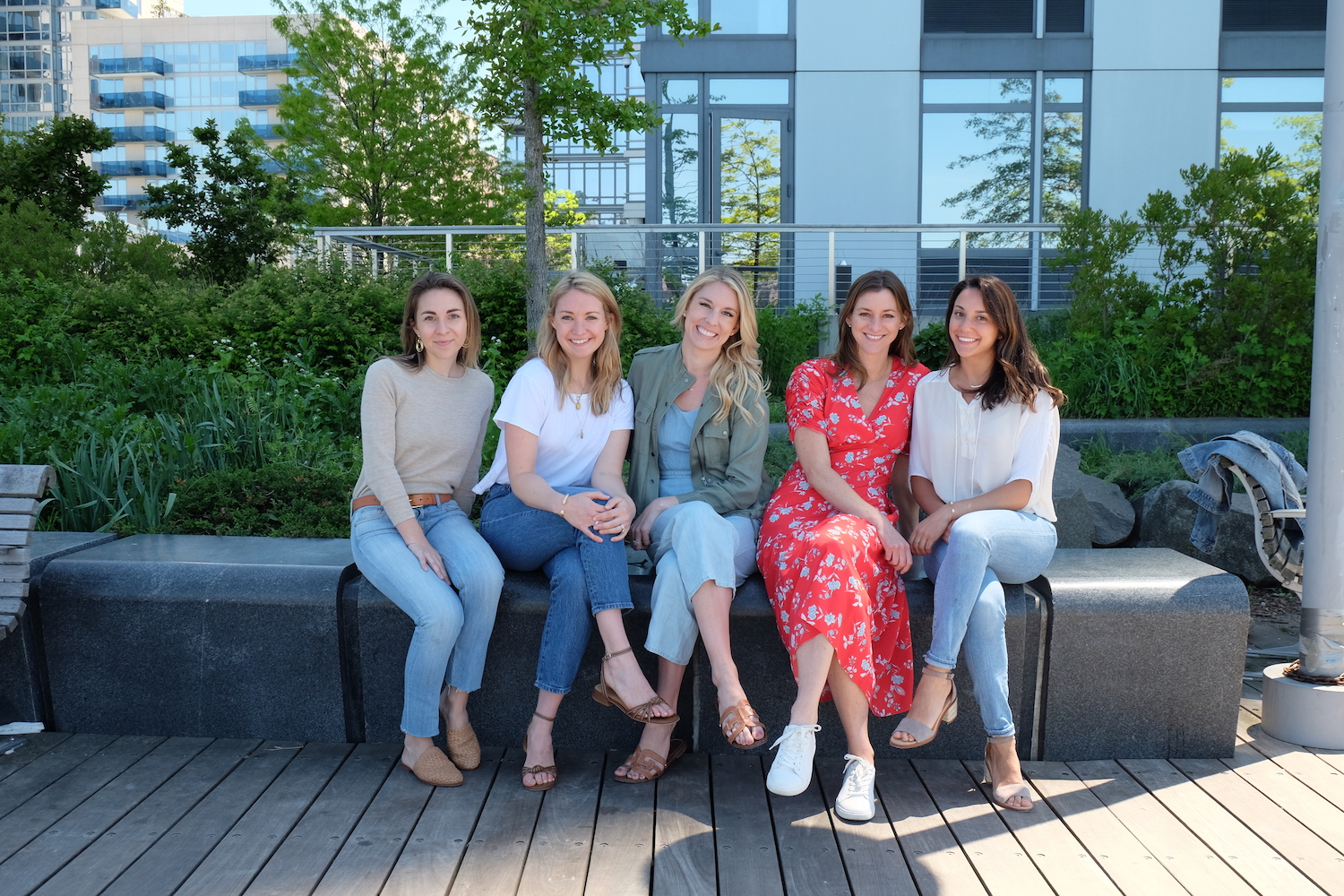 Thank you Sweats & Balances team, you rock!